Easy Arugula Salad Recipe with Parmesan
An easy Arugula Salad Recipe with Parmesan shavings and fresh cracked pepper is light and flavorful. With only 5 ingredients, this recipe for arugula comes together in less than 5 minutes. It's the perfect starter for a Spring Holiday Brunch or lunch recipe.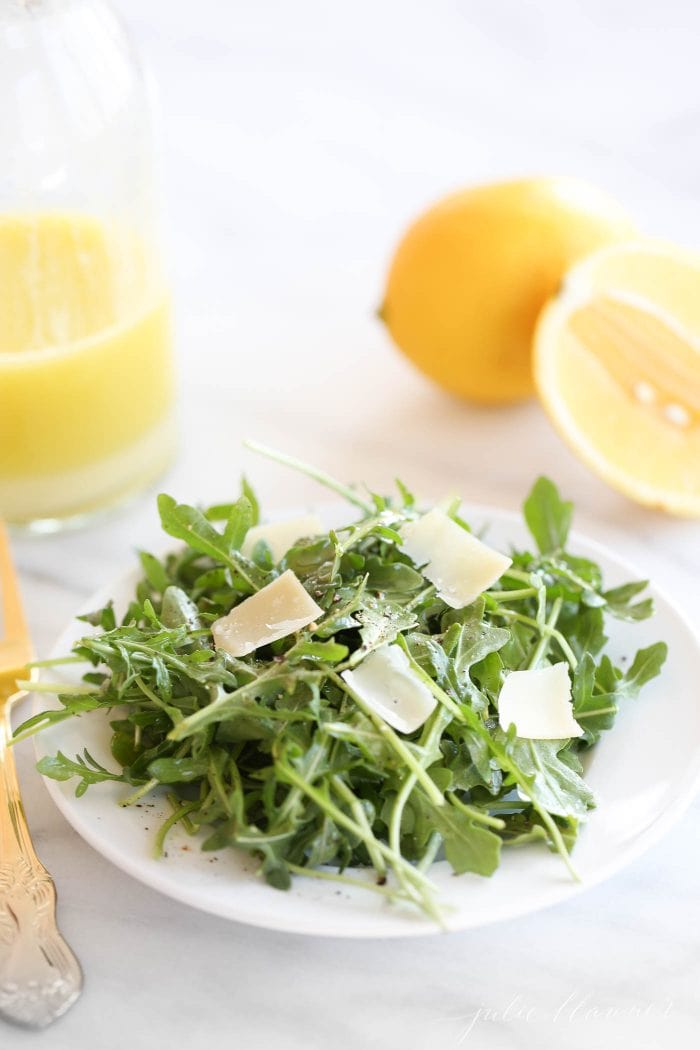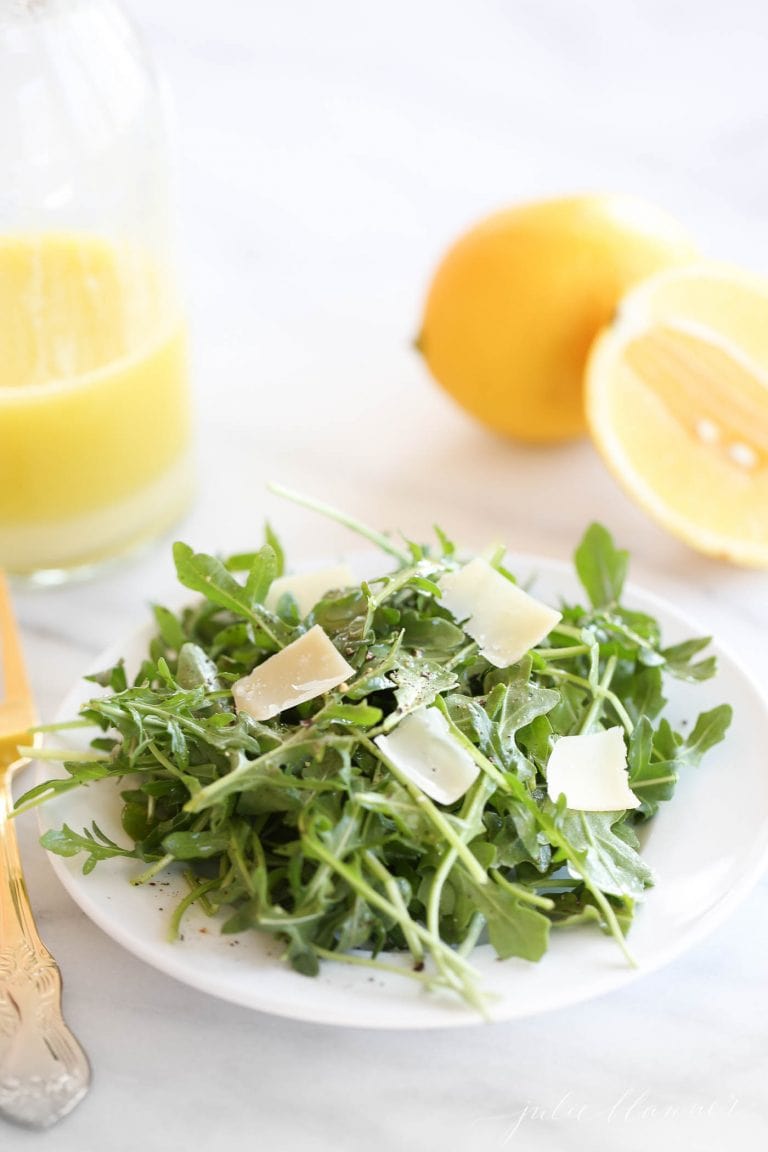 I wish my mom could see me now…eating salad. Years ago, I refused salad but along the way, I learned it was the lettuce I didn't love. However arugula, it has my whole heart.
Arugula is not only pretty, but it's tender with a slightly tangy flavor, which means it doesn't require much. A simple dressing and shaved parmesan will do. If you really want to go crazy, a crack of pepper.
That's why I not only enjoy this arugula salad with a meal, but as a meal. I often enjoy it for a light lunch. With only 6 calories a cup, it's a win for me. And it gives me hope I can be in a two piece this summer.
Ehem, it will never happen because of my love for wine, but a girl can dream.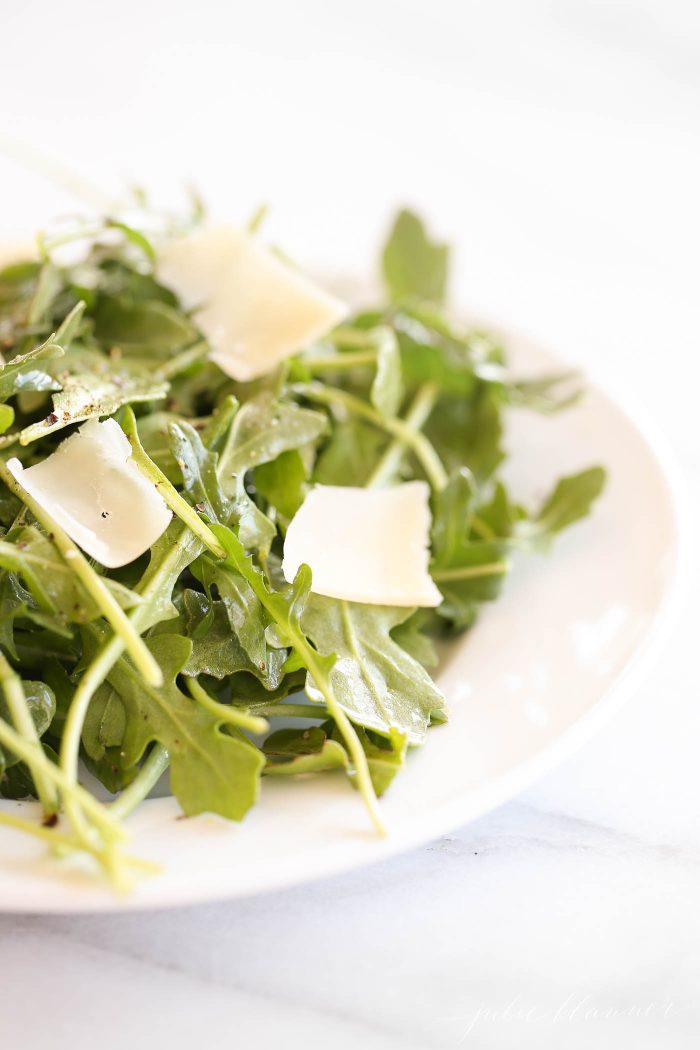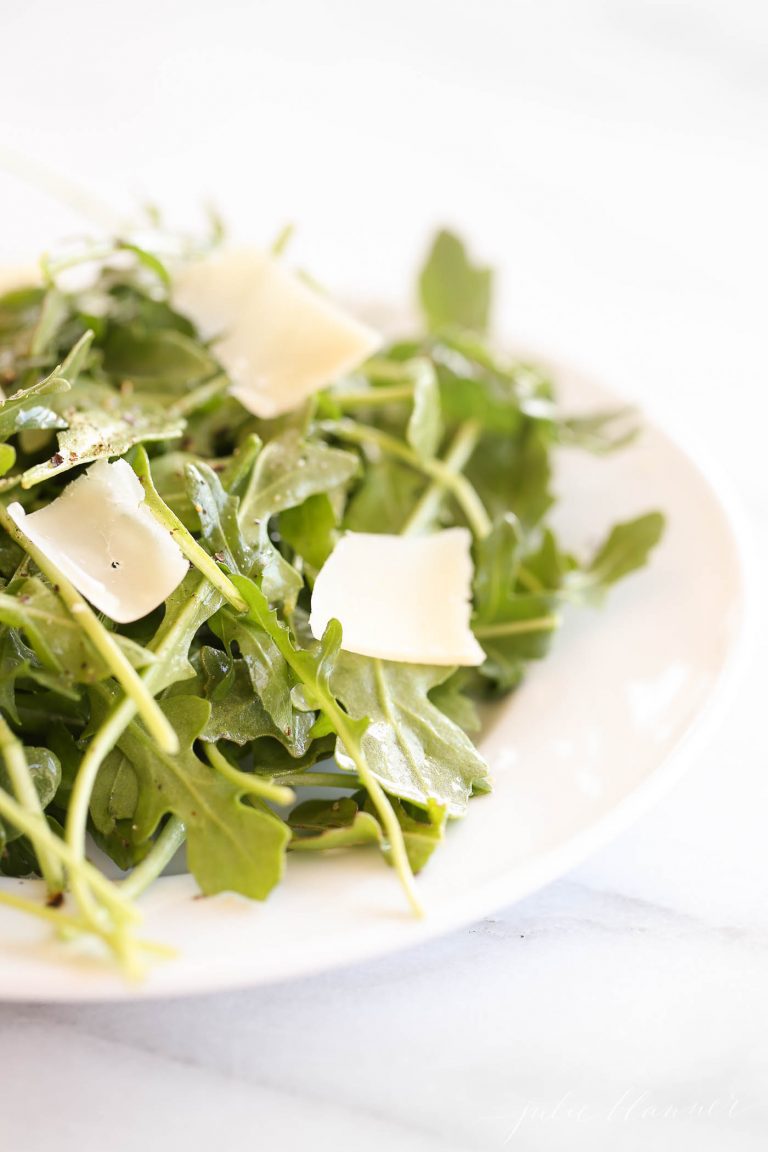 What Is Arugula?
Arugula, also known as rocket, rucola or roquette, is a member of the cabbage and mustard family. Although slightly more mild than mustard greens, it has a delicate, peppery bite that makes any homemade salad recipe more interesting.
When Is Arugula In Season?
Although it can be found all year round, arugula is at its peak season during early spring and fall. I prefer baby arugula for salad recipes. The larger, more mature arugula leaves are quite bitter and are best left for cooking with fat or added sweetness to take away some of its bite.
What Does Arugula Taste Like?
Arugula has a peppery, tart, fresh flavor. The leaves are tender with crisp stems, similar to the texture of spinach. But its flavor profile is way more interesting.
Where To Buy Arugula For Salad?
Most groceries stores sell arugula year-round in pre-packaged containers. When it is in season in the early spring and fall, bunched arugula is more likely to be found in the produce section or local Farmer's Markets.
When shopping, look for bright green, crisp leaves with no evidence of yellow, wilted, or slimy leaves. A bit of dirt is okay, just make sure to give it a good rinse when you get home!
How To Wash Arugula?
If you purchase your arugula from the Farmer's Market, fill your sink with cold water, add a touch of white vinegar, and gently wash away the residual dirt and sand. Then spin away the excess water in your salad spinner.
If you purchase baby arugula pre-packaged from the grocery store, there is no need to wash. Most pre-packaged varieties have been triple-washed already.
How to Store Arugula?
Store loose or bunched arugula, wrapped in paper towels, in a plastic storage bag in your crisper drawer in the fridge. The peppery greens will keep for up to 2 days. Wash when ready to use.
Pre-packaged arugula will keep, unopened, for up to 5 days in the fridge. Once you open the package, use it within a few days.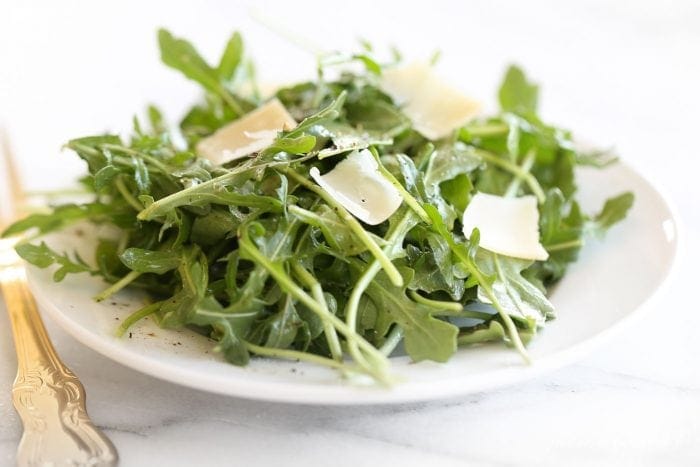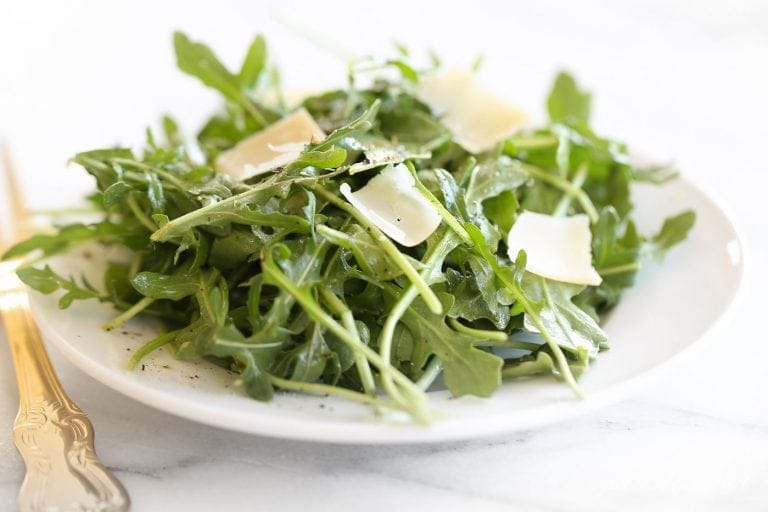 Arugula Salad Recipe Ingredients
White Wine Vinegar – A high-quality white wine vinegar is ideal for this arugula salad recipe because it contains such few ingredients.
Olive Oil – Make sure to use Extra Virgin Olive Oil. This is a salad, after all, so we want the fruitiest olive oil we can find.
Lemon Juice – Fresh, bright, and acidic, the lemon juice helps cut the sweetness of the white wine vinegar and pairs with the peppery bite of arugula, too! Squeezed fresh from the fruit provides the best flavor rather than purchasing lemon juice in a bottle.
Arugula – The star of the show! If you can find it fresh from the farmers market, note that it is most likely wild arugula, which has a stronger and more intense bitter flavor. For this simple salad recipe, I prefer the delicate taste of baby arugula.
Parmesan – Purchase the whole block with the rind at the grocery store or your local Italian market. Its flavor is far superior to the pre-shredded variety. Shave with a vegetable peeler just before serving.
Fresh Cracked Pepper – Although arugula is somewhat peppery, a few cracks of fresh black pepper give this arugula salad recipe an extra special touch. Purchase a small pepper mill and whole black peppercorns for all your black pepper needs.
How To Make Easy Arugula Salad
In a small jar, combine vinegar , olive oil, and lemon juice. Shake well.
Toss salad dressing with arugula and Parmesan.
Top with freshly cracked black pepper. Enjoy!
How Many Calories Are In An Arugula Salad?
As I mentioned before, my favorite way to enjoy an arugula is to keep it simple. This salad comes in at just 231 calories per serving, but is full of flavor. I always feel satisfied after eating it, and better yet, great about myself!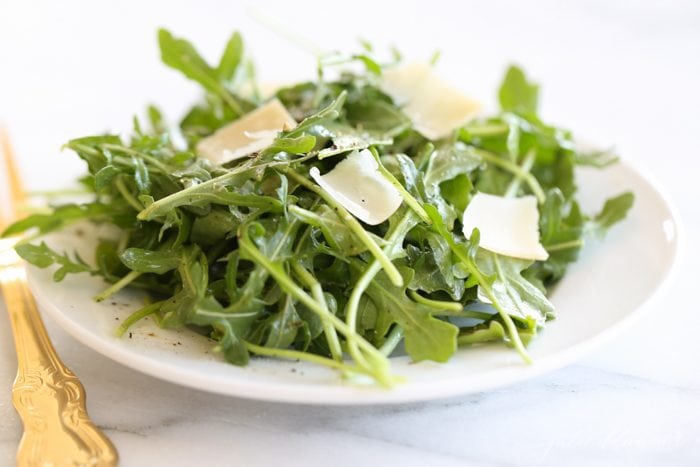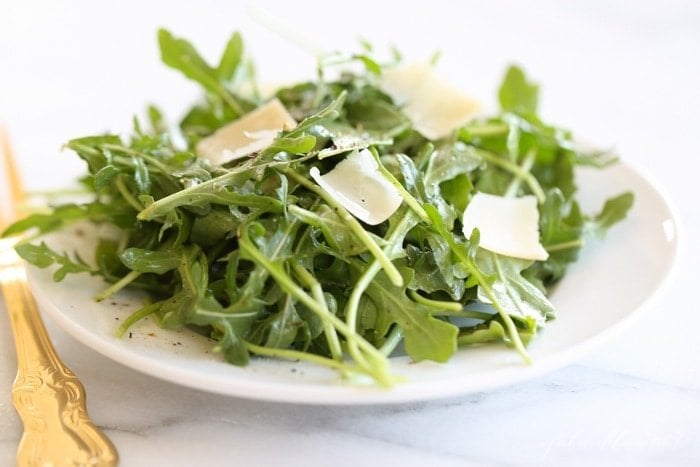 What Goes Well With Arugula?
This simple salad recipe with arugula goes well with just about anything. It makes a perfect Easter or Mother's Day brunch option. Serve it alongside 5 Minute Skinny Strawberry Tart Recipe for a sweet and savory combo. Or wash it all down with a Strawberry Lemon Mimosa.
It's a perfect starter or light lunch recipe. I usually like to keep it simple and enjoy it with a glass of my favorite white wine. There's simply nothing better.
More Easy Salad Recipes You'll Love:
If you try this Easy Arugula Salad Recipe with Parmesan, please come back to share using my 5 star rating in the comments below! Not only do I appreciate it, but I know readers do, too! For more easy recipes and simple living ideas, subscribe to my newsletter!
LET'S CONNECT! instagram | newsletter | facebook | pinterest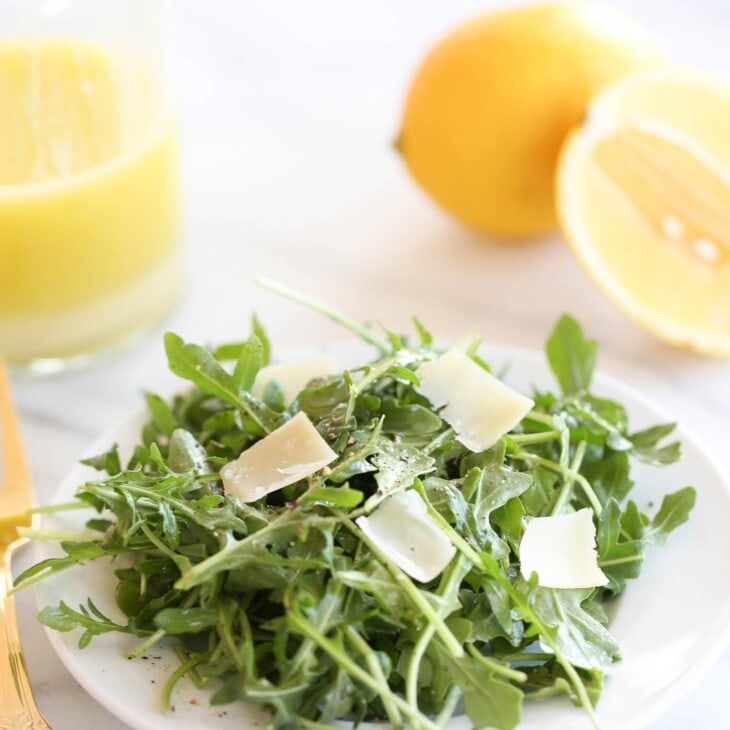 Easy Arugula Salad Recipe with Parmesan
An easy Arugula Salad Recipe with Parmesan shavings and fresh cracked pepper is light and flavorful. The perfect starter for brunch or lunch recipe.
Instructions
Combine vinegar, olive oil, and lemon juice in a jar. Shake well.

Toss with arugula and parmesan.

Top with fresh cracked pepper.
Tips
Purchase baby arugula for a more delicate, peppery flavor.
Nutrition Information
Calories:
231
kcal
(12%)
,
Carbohydrates:
3
g
(1%)
,
Protein:
10
g
(20%)
,
Fat:
20
g
(31%)
,
Saturated Fat:
6
g
(30%)
,
Cholesterol:
17
mg
(6%)
,
Sodium:
412
mg
(17%)
,
Potassium:
154
mg
(4%)
,
Fiber:
1
g
(4%)
,
Sugar:
1
g
(1%)
,
Vitamin A:
1036
IU
(21%)
,
Vitamin C:
8
mg
(10%)
,
Calcium:
353
mg
(35%)
,
Iron:
1
mg
(6%)
Estimated nutrition information is provided as a courtesy and is not guaranteed.