I did it. I hosted a joint birthday party for Adalyn and Aniston. It was always my intent to give them separate birthday parties, but at this age, they love doing everything together, not to mention making it easier for family to travel and celebrate them. I have to say, they didn't seem to mind one bit.
The details:
I couldn't resist sharing the gold tipped meringues, also made by Andrea of Classic Cakes.
Now onto cake.
To maintain a little individuality, I made them each a number backdrop of photos from the past year. As you can tell, Aniston was pretty proud of that one above her head. Their individual cakes were served on my grandmother's milk glass plates and they sat at my mother-in-law's childhood table and chair set. I love heirlooms and little nods to our families.
For the cake smash, Aniston wore the tutu that both her and Adalyn wore for their newborn photos and Adalyn wore to her Aunt & Uncle's wedding at 9 months. A good tutu is worth the investment! Have I mentioned that this girl loved all the attention? Daddy helped blow out her sparkler candle.
You're really going to let me eat this?
Adalyn takes candle blowing seriously.
and cake eating. Isn't she sweet?
Yes, she wore her ballet shoes. She just loves to melt my heart.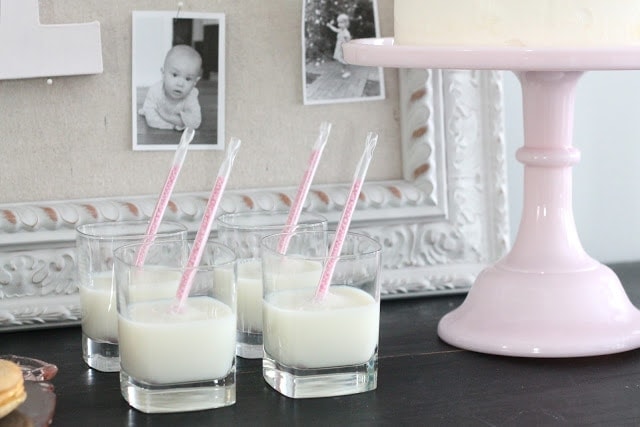 What's better than paper straws for a birthday party? Flavored straws. Adalyn loves the strawberry flavored straws for her milk. You can find them at the grocery store.
Using extra photographs I printed, I made a table runner, just draping them down the table. I loved reflecting over the past year through photographs.
Grandma Pat and her birthday girl.
Happy Birthday to my beautiful girls!